You are here
Torcon 2003
The 61st World Science Fiction Convention

August 28 - September 1, 2003
We came, we partied, we survived. Circumstances surrounding Torcon presented us once again with the question: will we or won't we? The mere thought of not attending a Science Fiction World Convention invoked a mental barrage of profanities. Then again, Worldcons are not cheap. Yes, we shall, says the die-hard fan. No, we shan't, says the inner penny pincher. In the end, what the heck, one more fling at extravagant fun, one more stab at madness. It is the end of the world but we feel fine.
On our first night in Toronto, I met Gandalara at the Royal York shuttle bus stop. Toronto's streets took our joyous bouncing quite well.
After catching up on newest gossip and the like, the three of us went for a midnight snack at the Bon Marche, a neat eating establishment inside an office complex, where you can pick your food and have it cooked right there in front of you.
We went up the CN tower the next day and had a bird's eye view of Downtown Toronto. The line-up to go into highest pinnacle was long and winding, but the scenery made up well enough for the sighing and the impatient drumming of the foot.
After I took my mom back to the hotel, we toured the Steam Whistle Brewery and had some interesting insights of beer brewing.
On the third day, whilst Gand stayed in Toronto for more exploring, my mom, my sister and I took a tour to Niagara Falls, got a look at the smallest church in the world and got pretty wet on the Maid of the Mist.
Finally, a day of arrivals!
Lunch with the Shadow family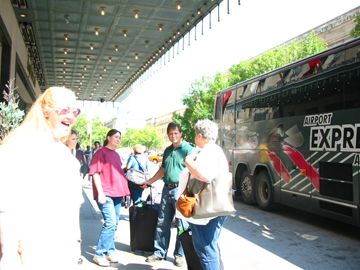 Welcoming STAR at the shuttle bus stop.
Highlight of the next day: Sightseeing Toronto on the Hippo Tour (on land and water).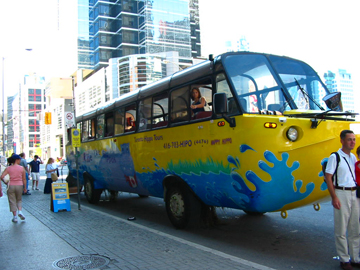 Another flurry of arrivals and another night of gormandizing!
MT having a stretch after a harrowing train ride
Greeting Mystik in the lobby of the Royal York
O*W*C Group Dinner at the Bon Marche!
The Convention is in full swing!
Sadly, not even into the second day of the Con our MT suffered a cardiac mishap. Though he did not suffer serious damage, he was sorely missed at the Con. It must be said that MT showed that great spirit of endurance and a love of food that he planned, as soon as he was feeling better, to hop right into a cab from the hospital and sally forth to the Bon Marche to have a good meal, which spiritful intention, alas, did not materialize. Until next time, MT!
PARTY TIME!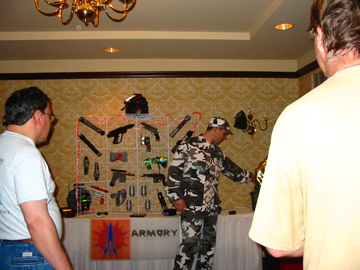 Space cadet showing his stuff
A Borg visitation.

"Resistance is futile." Yeah right!

Um, in a way it's true: we couldn't resist coming to the Con.
A day of author signing
Caught Robert Sawyer in a corner
David Brin at his table.
STAR and me rubbing shoulders with Julie Czerneda

at the signing of her anthology SPACE, INC.
Artist of the book cover, Jean-Pierre Normand.
As much as I would like to, Worldcon being hosted in a Canadian city this year, I cannot honestly say that the organizing of Torcon was on a par with the other Cons I attended. We waited more than an hour for program books and when they finally arrived, we were told that there were errors in the dates and times of the schedules. For instance, Elizabeth Hand was not told of a scheduled reading and Kim Stanley Robinson didn't show up for his poetry session. Nevertheless, griping aside, we made the best of it, we had fun, we saw much and the devilry turned us into party devils.
Last but not least, Gand showing off her newly grown horns!
Well now, I have no plans for the coming years. Oh, to bear the brunt of Con withdrawals but there is a gamma ray of hope, a steady pulsar of expectation. See you, Scienfictioneers, at L.A.con IV in 2006!